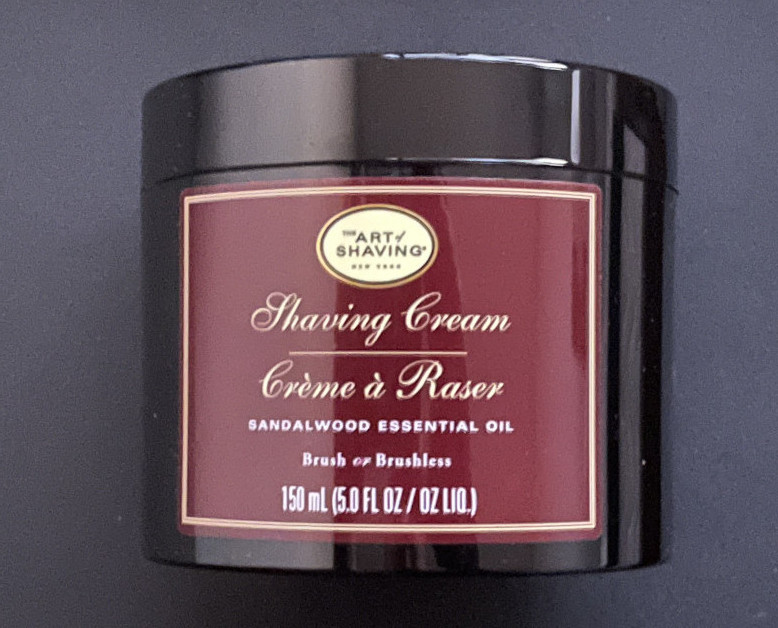 Product: The Art of Shaving shaving cream
# of Scents: Currently eight
Opinion: Worth the money

Purchase Link:  Art of Shaving shaving cream
---
I Wish I Knew About Shaving Cream Sooner
Like most men, I started shaving by using a Mach 3 razor and a can of Gillette shaving cream. I never really questioned this method of shaving because it was all that I knew until I stumbled into the straight razor shaving scene where the use of shaving brushes and shaving soaps/creams was the standard.
After shaving with shaving soaps and creams I have no desire to go back to shaving with any type of shaving gel or foam that comes from a can. In this post I will be doing a review of the Art of Shaving's shaving creams.
I must admit that I really haven't ventured into trying all the different shaving soaps and creams. I can name all the ones I've tried on one hand: Proraso, The Art of Shaving and Zirh.
Maybe in the future I'll be a little more adventurous and shake it up more. I think my lack of experimentation has largely been due to my shaving habits. I tend to shave anywhere from once a week to once every month or two months.
My typical shave routine has consisted of:
Letting the hair on my head and my beard grow out until I get annoyed by it
Shave it off
Start the process again
What this means is I don't typically use a lot of shaving cream products and they tend to last me a long time.
Available Formulations/Scents
The Art of Shaving shaving creams come in a handful of scents/blends: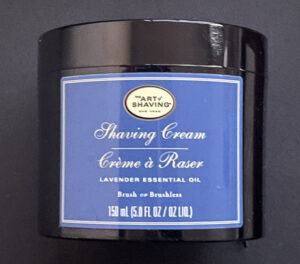 Unscented
Lavender
Sandalwood
Olibanum
Coriander Cardamom
Bourbon
Bergamot Neroli
Oud
Personally, I really like the lavender, but my girlfriend really enjoys the sandalwood. This means I end up using the sandalwood shaving cream, lol. However, I must admit the sandalwood shaving cream has a great scent as well.
The Art of Shaving shaving cream comes in a nondescript black, squat, cylindrical container. It has a screw on cap that you unscrew to access the shaving cream. To use it you simply wet a shaving brush, swirl it around in the shaving cream, and then use the shaving brush to apply it to whatever body part you are shaving. They do sell 1.5 and 2.5 oz tubes of shaving cream in the same scents, but my experience is with the 5 oz containers with the screw on cap.
Benefits of Using a Shaving Cream
It's enjoyable:
To me, the use of a shaving brush and shaving cream really elevates the shaving experience. I find the aromatic scents to be calming and relaxing. Applying the shaving cream to my face with a shave brush is extremely enjoyable. It's a much better experience than squeezing shaving gel onto your hands and using your hand to apply it to my face. It's almost incomprehensible that I did just that for years.
Use razors longer:
I haven't really done too much scientific testing, but I honestly think using a quality shaving cream helps you get more shaves out of a cartridge razor than you might otherwise get if you were just using a shaving gel or foam. I have been running a Harry's razor through its paces and so far I have gotten sixty-eight shaves out of it.
This is a lot more shaves than I was getting from a Mach 3 back when it was the de facto men's razor. Now I'll be the first to admit that it's possible Harry's razor is a better razor than the Mach 3, but I don't think I could get that many shaves from a Mach 3. I guess I'll have to do some more testing by using a Mach 3 with shaving cream and a Harry's razor with shaving gel/foam.
Long lasting:
Recently, I have been tracking how long a five ounce The Art of Shaving shaving cream jar will last. I'm up to seventy-four shaves at the time of this posting. Of those seventy-four shaves, I used it for both my face and head for fifty-three of those shaves.
I tried to shave both my head and face each time for the heaviest use scenario, but I had to take a break from shaving my head due to skin irritation and zits I was experiencing.  I think I can get at least another 10 shaves out of what is remaining and I will update this review once I have the final number in.
This is a significant number of shaves you would get out of a single can of shaving gel/foam. It's been years since I have used a can of shaving gel/cream, so if you're interested in the cost per shave I don't have that information yet.
I plan on taking one for the team and buying my first can of shaving gel in more than a decade to see how many shaves I can get out of it. At that point I'll be able to compare the cost between the two accurately.
Last Words
Overall, I highly recommend the Art of Shaving shaving creams. I enjoy them immensely. However, even if you decide the Art of Shaving shaving creams aren't for you, I still recommend you experiment with other shave soaps and creams. They really do transform shaving from an unwanted but necessary chore to something enjoyable.